For over a thou-
sand years hardy
traders traversed
the mountains,
deserts and seas
between the great
civilization cen-
ters of Rome, China
and India. Roman
gold coins have
been found in India
and China and
Chinese silk in
the pyramids of
Egypt. In the 19th
century, the his-
torian Ferdinand
von Richthofen
(uncle of the
famous flier)
coined the term
"Silk Road" (in
German, Seiden-
strasse) to
describe the long,
narrow, easily-
broken overland
route between
East and West,
but there were
also the Spice
Route (also
known as the
Maritime
Silk Route), the
Incense Route
and many others.
On these routes
there flowered
not only trade,
but the trans-
mission of tech-
nology, art, cul-
ture – the
Silk Road has
been called the
Internet of its
day. Others
document its
history, but
what you have
come upon is
the only place,
to chart the
many games
which evoke
this rich
past and offer
some oppor-
tunity to
relive its
sense of wonder
and adventure.

Spotlight on Games > Ludographies
Board Games on the Old Silk Road
September 3, 2016 additions:

Silk Road Games:
Age of Schemes (2008) · Akaba (2004) · Al Rashid (2012) · Aladdin and the Magic Lamp (1960) · Aladdin (1970) · Aladdin's Erbe (1987) · Aladdin's Lamp Game, The (1992) · Aladdin's Dragons (2000) · Aladdin the Magic Carpet Game (1992) · Aladdin's Sounds of Fun Electronic Talking Board Game (1992) · Aladin's fliegender Teppich (2015) · Ali (2012) · Ali Baba (1993) · Ali Baba (1999) · Ali Baba (2002) · Ali Babas Beute (1983) · Arabian Nights (2009) · Arabian Nights Flying Carpet Game (1972) · Asia Crossroads (2003) · Asian Travels (?) · Auf den Spuren des Marco Polo (2004) · Bakschisch (1995) · Basari (1998) · Bazaar (1967) · Bazaar (1986) · Caravans of Asia (2012) · Caravans of Asia: Arabian Sails (2012) · Caravansérail (1996) · Da Geht Was Ab im Morgenland (1995) · Der Dieb von Maradad (1993) · Die Diebe von Bagdad (1999) · Dschamál (2005) · Emira (2006) · Les Fils de Samarande (2005) · Five Tribes (2014) · Fliegende Teppich (1987) · Fliegende Teppiche (2011) · Flying Carpet (1987) · Game of Arabian Nights (1940) · Geschichten aus 1001 Nacht (1999) · Der gestohlene Harem oder die falschen Eunuchen (1992) · Istanbul (2014) · Jewels of the Sultan (2014) · The Journey to Tianzhu (1998) · Karawane (1990) · Karawane (2008) · Karawanix (2016) · Kashgar: Händler der Seidenstraße (2013) · Le Marché de Samarkand (2010) · Marco Polo (1983) · Marco Polo: Dragonda (1982) · Marco Polo Reisespiele (1996) · Marco Polo Reise-Spiel Deutschland (1996) · Marco Polo Reise-Spiel Frankreich (1996) · Marco Polo Reise-Spiel Italien (1996) · Medina (2001) · Merchants of Araby (2017) · Morgenland (2000) · Oasis (1999) · 1001 (2016) · Orient Bazaar (2010) · Orient-Bazar · Palmyra (1996) · Palmyra (2013) · Die Perlen der Scheherezade (1992) · Riquezas do Sultão (2007) · Samarcanda (?) · Samarkand (1999) · Samarkand: Routes to Riches (2010) · Die Schätze des Ali Baba (1999) · Schnapp die Schätze (2015) · Die Seidenstraße (1997) · Seidenstraße (2009) · Serica: Plains of Dust (2011) · Silk Road (1985) · Silk: Road Maker (2009) · Sindbad (1990) · Sindbad: Das Große Abenteuer-Spiel (1978) · Six Sons of the Sultan (2014) · Spice Merchant (2012) · Sultan (2009) · Sultan's Library (2016) · Sultaniya (2013) · Sultans of Wind (2016) · Tales & Games: Aladdin & The Magic Lamp (2016) · Tales of Arabia (2001) · Tales of the Arabian Nights (1985) · Taschkent (2012) · Taschkent Erweiterung (2016) · The Thieves of Bagdad (1999) · 1000 und ein Schatz (2010) · 1001 Karawane (2007) · Verrat! (1999) · Viziers (2012) · Les Voleurs de Bagdad (1999) · The Voyages of Marco Polo (2015) · Yspahan: (2006) · Yspahan: The Souks (2009)
Related Games:
Abdul's Adventure (2000) · Blazing Camels (1996) · Caravaneers (2008) · Caravans of Ahldarahd (2008) · Desert Bazaar (2006) · Durch die Wüste (1997) · Im Reich der Wüstensöhne (2008) · Kameltreiber (1996) · Kameltreiber AG (1989) · Das Letze Kamel (1988) · Muscat (2001) · Nomadi (1995) · Nomads of Arabia (2006) · Oasis (2004) · Saba (2007) · Sahara (1990) · So Ein Kamel (1985) · Targui (1988) · Through the Desert (1997) · Timbuktu (1993) · Wabanti (1995)
Bibliography
Documentaries
Music

2017
Merchants of Araby
Jay E. Treet, III; Daily Magic Games-(forthcoming)2017; 2-4; x
Negotiation and worker placement game of merchants trying to earn the most money. Caravan cards represent journeys to other cities. Opponents can offer to add their own camels to your caravans. There are also cards representing genies, virtues, allies, etc.
2016
Karawanix
Robert Bayer, Elisabeth Draxler, Herta Strehl, Sonja Trausmuth; Piatnik-2016; 2-6; 35; 5+
Cooperative game for children of players traveling through the desert. Problems to overcome include sandstorms and mirages.
1001
David Duperret, Vincent Greco; TIKI Editions-2016; 2-8; 30-45; 8+
Players represent the spirits of the four winds that guide Aladdin's flying carpet, trying get Aladdin to collect resources needed to build a palace and capture the moon and stars for the princess. Players alsoscore by successfully predicting the actions of the opposing team and helping the Vizier to block them.
Sultan's Library
Ryno Lourens; Photon Games-2016; 2-5; 20-60
Players represent Envoys who travel looking for books of knowledge. Whoever gains the most wins. The player's basic action is dictated by the draw of two cards. Then they allocate exploration points to search for books, pick them up or deposit them. The game ends after someone has deposited three books.
Sultans of Wind
Jan Meyberg; Desyllas Games-2016; 2-4; 40 8+
Game of programming the moves of your flying carpets through a changeable maze of clouds to win a race.
Tales & Games: Aladdin & The Magic Lamp
Tiago Damey; IELLO/Purple Brain Creations; 2-5; 20; 8+
Simultaneous press-your-luck game of entering a cave to find the fabled magic lamp, as well as other treasures. Results are determined by drawing cards, the number of which the player must decide in advance.
Taschkent Erweiterung
Peer Sylvester; Mücke Spiele; 2-4; 8+
Expansion to Taschkent (2012) adds followers, which can enable earning more points, and statues, that can be rebuilt by first collecting all their separated parts, again to gain points.
2015
Aladin's fliegender Teppich
Jean-François Rochas; Goliath-2015; 2; 15; 4+
Players take treasures from a pouch and put them on a carpet, kept aloft by magnetism, trying to avoid making it fall. Title means: Aladdin's Flying Carpet.
Schnapp die Schätze
Günter & Lena Burkhardt; HABA-2015; 2-6; 15; 5+
"Snatch the treasures" is a dexterity game of stacking a silver column, a flying carpet, a magic lamp and more on a silver column.
The Voyages of Marco Polo
Simone Luciani, Daniele Tascini; Hans im Glück/Z-Man Games-2015; 2-4; 40-100
2015 Deutscher Spiele Preis winner as Auf den Spuren von Marco Polo.
Players recreate Marco Polo's 1271-5 AD journey to Beijing (then called Dadu). Each player represents a particular character with special ability. Dice drive the action as each player rolls five to start the turn and then uses them to perform actions like getting resources, camels, earning money, taking orders and traveling. The winner after five rounds is the one who has the most victory points for distance traveled, orders fulfilled and secret travel conditions.

2014
Five Tribes
Bruno Cathala; Days of Wonder-2014; 2-4; 60
Game based on the ancient game of Mancala in which pieces begin in many places and a player picks up all the pieces in one space and drops them one-by-one, leaving a trail of pieces to a new location. At the ending location on this modular 6x6 grid whose arrangement differs with every match, the player claims the final piece and any others of matching color (there being five colors in all). Each color provides a different benefit, e.g. a simple majority game, enabling a set collection game, a game based on the values printed on surrounding tiles and even an assasins game which enables killing a piece on the board or in a player's holdings. There are also special djinn (genie) cards that offer special abilities. There are quite a few such cards, but it seems relatively few can get claimed before play is over; some seem quite a bit more powerful than others as well. Turn order is by auction of victory points. Clearing the final tile of pieces permits claiming it with one's wooden camel piece, with points being printed on the tile. Each tile also affords a special action such as placing a wooden palm tree or palace that give extra points or the chances to buy cards, for example. A game which may be prone to analysis-paralysis as one seeks to find the perfect location which maximizes several things at once. Unfortunately it does not go faster toward the end because the lack of pieces makes merely legal plays much more difficult, not to mention those of benefit to the player. While it's ifficult to make sense of it all thematically, it's nice to see that someone is trying to revive/do something with Mancala.
Istanbul
Rüdiger Dorn; Pegasus Spiele-2014; 2-5; 50
Similar to Five Tribes the modular board is composed of sixteen locations in a square, different arrangements of which are possible (though not completely random). Each bazaar location offers a different action that the player takes when landing there. Each player owns a stack of five disks and each move to another tile leaves a disk behind. When placing the last disk, the player has no choice but to retrace his steps like a recoiling spring. Actions include buying diamonds, buying other goods, increasing carrying capacity, selling goods and acquiring special abilities. A very interesting and useful on is the casino where the player names a number and wins if the dice roll is higher than the number, but the higher the number, the more the win. Seems somewhat susceptible to certain recipes or cliches that are likely to win every time, especially for the first player.
Six Sons of the Sultan
Todd Sanders; Air and Nothingness Press-2014; 1-2; 20
Players try to supply various kinds of tea to the Sultan's sons. Each has a different cost, prestige value and special ability. This is a print-and-play game that includes 9 cards, 3 dice and some cubes. Players roll dice to begin the turn, assigning two of them to various purposes and passing the third to the other player to use. With these dice results they gain wealth that they can use to buy tea, the amount and type available also being determined by the dice roll. Players also move along a track to gain points.
2013
Kashgar: Händler der Seidenstraße
Gerhard Hecht; Kosmos-2013; 2-4
In "Kashgar: Silk Road Traders", named after the city in the middle of Silk Road, today at the western edge of China, players begin with three cards, each a family member offering a differing capability. A turn consists of choosing one of the abilities and executing the indicated action. This card is then placed at the back of the caravan, becoming unusable until all of the other cards have been. Players collect mules, spice and gold on their own boards. It's also important to collect new family members – effectively this is a deck building game – offering more abilities, including those that affect other players. Premier: Essen Spiel 2013.

This may have originally been on another theme as there are several oddities such as mules rather than camels and despite the Silk Road allusion, there is no actual travel. Cards such as Nobles and Aristocrats don't seem to fit in well either. Play seems somewhat claustrophobic with a turn permitting only the choice of one of three cards to play, and the next turn being two-thirds the same. Worse, there is a lot of dependence on getting particular cards that are only generated randomly.

Sultaniya
Charles Chevallier; Bombyx-2013; 2-4; 45; 8+
Tile-laying game of building the most beautiful palace for the new sultan. As in Dominoes, new tiles must match those already present. Each player has secret objectives.

2012
Al Rashid (2012)
Giorgio De Michele and Pierluca Zizzi; Yemaia; 2-5
In the 8th century players represent heads of powerful families. Family members (worker placement) engage in trade, travel and influence over Al Rashid. Worker types include merchant, sage and pasha. Resource types include wood, pottery, metal, spice and silk. There is no currency; purchases do not provide change. Raiders appears on the map randomly; hired mercenaries can help with this. Also employs the variable phase order mechanism.
Ali (2012)
Antoine Bauza and Corentin Lebrat; Libellud; 3-5; 8+
Fifteen minute press-your-luck memory game in which you must correctly remember and repeat the growing list of treasures that have been stolen so far. Includes 45 attractive cards illustrated by Stéphane Poinsot.
Caravans of Asia (2012)
Joseph Fatula; The Lumenaris Group; 2-6
The 17-piece puzzle map displays Silk Road trade routes from China to Constantinople. In the Mongol period of the 14th and 15th centuries, players represent traders who begin in different cities, each with three event cards. Item types include silk, spice, incense, glass and jade. These appear in random cities via the dice and cost fixed prices. Each trader carries only one item at a time. Selling is possible if the city has an printed price for the item and does not already have two of that item sold there. New items of this type appear when none are available for purchase. Mountains have significant influence on movement, bandits on your pocketbook. Land movement is at a fixed rate; sea movement is controlled by die roll. Players can be eliminated early if they run out of money, though loans are available in any city.
Palmyra
Bernd Eisenstein; Irongames-2013; 1-5; 45
In the first century AD, Caesar instructs his legates to expand Rome's influence in this far eastern province by annexing new lands and farming taxes. The most successful player becomes the new governor. This tile-layer also includes an army and censor for each player plus money. By the inventor of Peloponnes and Maya.
Caravans of Asia: Arabian Sails (2012)
Joseph Fatula; The Lumenaris Group; 2-6
Adds nine board pieces, item types of tea and slaves and twelve event cards. Also adds ships as a new caravan type that travels on the seas. The wind alternates and may blow ships off course.
Spice Merchant (2012)
Gun-Hee Kim; Bombyx/Deinko Games; 3-4
Game of cards, which represent both goods and stocks in the value of those goods. There are six types of spice and each player begins with a hand of seven. On a turn a player either displays ownership of one stock card by revealing it or plays one to four cards of the same type on one of the six markets. The latter forces the sole type of the market used. Then the hand is refilled. When all markets are full, players reveal their secret stocks and cash them out depending on the markets. This sequence is repeated four times to determine a winner.
Taschkent (2012)
Peer Sylvester; Mücke Spiele; 2-4; 8+
Running across the center of the board is a "linear rondel" which players traverse to take various types of actions. On one side is a map where jewels rest at various locations while the other is used to store supplies. Actions player take include traveling, buying, selling and building trading posts. The goal is actually to acquire the most victory points. During the variable action phase, the players can built huts as storage. Alternatively, inside the caravan they can get money, goods, action cards, or materials needed for the trading. During the trading phase, the players can exchange the collected goods for money or other valuables that will bring victory points.
Viziers
Justin Thomas; The Game Crafter-2012; 2-6; 60
Each player governs an oasis that he tries to develop by enticing caravans while fending off raiders. With increasing wealth, make discoveries and build edifices of learning, beauty and defense. Play revolves around a auctions of cards which are paid for with resources. After the auction each card is resolved in numerical order.
2011
Fliegende Teppiche (2011)
Lorenz Kutschke; Adlung-Spiele; 2-4; 8+
"Flying Carpets" sees players steering for the locations having the most points. They set up their portion of the 52 destination cards any way they like, so long as each is no more than a card width away from another card. Then players take turns flying this route, by tossing their carpet cards and claiming those cards on which it lands. Conflicts are resolved by the genie cards that players hold, and the losing player gets the winner's genie. Raw points and set collection determine the score, magic lamps cancelling the negative effects of deserts.
Serica: Plains of Dust
Todd Sanders; (web published)-2011; 2; 30
One player is the Roman empire and the other the Han Dynasty, at about 200 AD. Players employ drafted cards to direct rade caravans and build depots, military and architecture. Includes map, 6 pawns, 54 cards and 33 cubes, including those representing six different types of trade goods.
2010
Le Marché de Samarkand
Loic Billiau; Krok Nik Douil Editions-2010; 3-5; 8+
A Dutch auction game (a high price is set and progressively lower prices are called out until the first player says stop and thereby wins the bid). Players take turns being the auctioneer of one of the ten cards they hold in hand. The value of the cards one collects accelerates as the number of them grows. Players need to buy not only commodities, but also camels to carry them. On the other hand, camels that end up not having any loads to carry cost in points.
Orient Bazaar
Jesper C. Nielsen; Lego-2010; 2-4; 7+
Set collection game of traveling to various bazzars to buy exotic items. The more you get of one type, the more they are worth. It's also possible to swap with other players. Includes dice.
Samarkand: Routes to Riches
David V.H. Peters & Harry Wu; Queen Games-2010; 2-5; 8+
In 400 AD players are extending trade routes through the Middle East and Central Asia. This is a re-development of Age of Schemes (2008). In this era, trade was a journey, not a track, railroad or highway. How then to explain that here the main activity of the players is making tracks? Because it's a railroad game masquerading as something else. Nations like Egypt or the Huns stand in for companies. Marriage alliances stand in for owning shares. The map shows the entire Middle East divided up into a great many irregular regions, most of which do not appear to have any historical meaning.
1000 und ein Schatz
Marco Teubner; HABA-2010; 2-4; 5+
True to its title, "A thousand and 1 Treasures" is about the discovery of the treasure cave of the 40 thieves; players have just discovered this cave when they notice on the distant horizon, the thieves making their return. Who can stash the most treasure on his donkey and still get clean away? The board forms a 5x4 grid on which can be placed some of the 60 cave tiles (19 of them showing a cave entrance which serve as the starting tiles). There are player figures, a bandit chief and a die. Each tile shows 1-3 treasures and a figure's starting tile thus determines its orthogonal movement rate for a turn. Figures block other figures as well, though if you are completel blocked the genie moves you anywhere you like. Once you leave the cave you cannot return, but you do pick up each tile as treasure each time you leave it; these are replaced from the supply. Drawing a tile that shows the bandits moves them one step closer to the cave entrance. If they reach the entrance, any players still inside lose. The die enables a variant for younger players who roll it and move the number of dots shown. In this case it's not necessary to leave the cave; you always retain your treasures.
2009
Arabian Nights
José Carlos de Diego Guerrero; web-published-2009; 2-5
As of April 2010 a web-published tile-laying game in which Basra must be liberated from the evil vizier Jaffar so that Achmed may marry the princess. The playing area is composed of a grid of square tiles. Half of them are tiles over which the players will fight to claim while the other half are connection tiles. Each connection has assigned to it a random die. On a player's turn they roll a pair of dice and move their Abu figure to a connector tile with a die matching one of those they rolled. They may then place one of their tokens on a tile connected to this tile. Each of these claimable tiles has a number from 3 to 6 which is the number of tokens it needs to contain before it is claimed by its majority holder and replaced with a random new one. When it comes time to draw one of these replacements and the supply has run out, the winner is the player whose tile numbers total the highest. But only tiles for which the player is at least tied for having the most in that color count. There are also six separate special power tiles which are not really part of the board. Players can place tokens on these by means of rolling doubles and can later use their special powers by burning one of these tokens if they dominate the tile. Special powers including sic'ing Jaffar on another player, changing a connection, changing a tile's die, etc. There is some quite nice artwork here and some good ideas, but on the whole needs more development. If one or two dice values are not available on the tiles, players can experience a lot of do nothing turns, which is never fun (and thus strongly avoided by those designing the most modern game technology). Even worse, using Jaffar forces a player to lose a turn. Instead of becoming more vital and exciting, play toward the end tends to just peter out with each move becoming less valuable rather than more so. During the endgame for most there is almost nothing useful anyone can do. There are problems with vague instructions. Players may find themselves playing just to get it over with more than for any other goal. The connection tiles seem like a nice idea, but in practice almost never matter. Meanwhile they aren't used for movement, but instead players decisionmaking is almost entirely at the mercy of the dice. Duration is probably at least one-third too long for the amount of randomness involved.
Seidenstraße
Hanno & Wilfried Kuhn; DDD Verlag-2009; 2-5
Players together move three caravans through the Silk Road, selling goods as profitably as possible while avoiding storms, thieves and customs inspectors. Each player turn has five phases: (1) play card(s) into personal display, move caravans, take cards, execute actions, place cards into the general display. Each war card played moves a caravan an additional space, but only one type may be played per player-turn. Which action is performed depends on where the player caused the caravan to land. Actions include Market Day (large or small), Black Market, Camels (1, 2 or 3) Customs House, Sandstorm, Robbers, Bazaar, Bribery. Includes 80 cards, 30 gems, 22 action tokens and 10 wooden disks. Duration: 1 hour.
Instructions (in German)
Silk Road Maker
Erhan & Aydagul Cubukcuoglu; (web-published)-2009; 1-4
Each player has his own 5x5 grid board and thirty tiles. One player is the caller and draws a tile at random. All of the other players find the same tile in their stack and they all place on their boards as they wish. The goal is create continuous roads between cities, unthematically the longer the better. Some tiles contain multiple discrete paths which can make for challenging decisions.
Sultan
Séregio Halaban & André Zatz; Queen-2009; 2-5
Card game re-make of Riquezas do Sultão (2007).
Yspahan: The Souks
Sébastien Pauchon; Ystari/Rio Grande/Huch-2009; 2-5; 60; 8+
This expansion kit for Yspahan, part of the Ystari Box of Expansions for six different games, is a deck of eighteen replacement cards, conferring new abilities. It also affords a fifth player.
Caravaneers
Andrew Perkis; Games magazine (March 2009 issue)-2009; 2
On a desert grid, players attempt to guide 11 traveler pieces to their own caravanserais. Whoever brings more wins.
2008
Age of Schemes
David V.H. Peters & Harry Wu; Winsome Games-2008; 3-6
In 400 AD players are extending trade routes through the Middle East and Central Asia. See more at Samarkand: Routes to Riches
Karawane
Hajo Bücken; HABA-2008; 2-4
Camels are racing to an oasis via card play. Only the first six finishers score. For children.
Im Reich der Wüstensöhne
Klaus Teuber; Kosmos-2008; 3-4; 8+
In the tradition of Entdecker this is a tile placement game, now set in a desert and oasis environment. Players explore outward from the center trying to form the most valuable oases and get one's figures on them.
2007
Riquezas do Sultão
Sérgio Halaban & André Zatz; Estrela-2007; 2-5
Players represent potential husbands for the Sultan's daughter. Each has been given the same amount of gold which he must use frequenting the bazaars to find the best jewels. Whoever can secure the most valuable collection wins. Pertinent mechanisms are bidding, bluffing and set collection. Re-made by Queen as Sultan.
1001 Karawane
Roman Mathar; Argentum Verlag-2007; 2-5; 60
In "1001 Caravans" players search for three magic artifacts. It's a game of exploration, memory, bluff and trading in which both water and caravan protection are important. In cities players trade with dealers who might have one of the needed artifacts.
Saba: Palast der Königin
Christian Fiore & Knut Happel; Goldsieber-2007; 2-4
In 9th century Yemen the queen asks you to create a palace. The player able to create the most impressive one wins. Includes a cardboard palace on which player figures are placed.
2006
Emira
Liesbeth Vanzeir & Paul Van Hove; Phalanx-2006/Mayfair-2006; 3-5
Players represent sheiks trying to convince women to join their harems. Their technique for accomplishing this is to make themselves as attractive as possible so as to be best according to the individual tastes of the new woman who appears each turn. Make sure that you can afford her, however. Features very elaborately illustrated board and cards.
Yspahan
Sébastien Pauchon; Ystari/Rio Grande/Huch-2006; 2-4; 60; 8+
In a Silk Road setting players score points by occupying complete sets in the marketplace as well as buying advantage-conferring buildings. The surprising engine of all this activity? Dice. Using a clever mechanism a large number of the cubes are rolled and placed on a scale, sorted into up to six categories according to their pips. Each category confers a different capability: four to place markets and one each to earn the two currencies in the game, gold and camels. Players take turns drafting from a category, usually starting with those having the most dice as they provide more of whatever the category offers. A player who doesn't like any of the remaining offerings can instead draw an action card or move the supervisor. The latter is the main way to attack others since the market at which he stops is lost to its owner, but at least the offended player receives compensation by being placed on the caravan trick, earning some points at the end of each round. Advantage-conferring buildings simply enhance the abilities already present, e.g. enhanced gold or camel earnings, enhanced market points, enhanced placement, etc. There are many cute little wooden camels.
Review
Desert Bazaar
Brian Yu; Mattel-2006; 3-5
Players earn victory points by establishing tent tiles on a hexagonal grid. Each tent has a cost of three which is paid for using a combination of cards and neighboring tiles matching the colors on the tent. Groups of tents are limited to a size of seven – points are given per tent, for starting a group and for finishing a group, the last of which also returns a few of the player's limited tokens. The other main mechanism is card replenishment. For this players forego placing tents and instead roll special dice to see what they receive.
Nomad of Arabia
Kris Gould; Wattsalpoag, Inc.-2006; 3-6
Players are traveling to Mecca and collecting stray camels, horses, goats and donkeys between the cities in which these animals may be sold. On a turn a player must choose whether to move, try to catch animals, shift the desert or sell.
2005
Dschamál
Thomas Liesching; Zoch Verlag-2005; 3-8; 20; 8+
In this unusual dexterity game, whose title means "Beauty" (Arabic with German spelling), two players at a time thrust their hands into a bag trying to grab a particular oddly-shaped wooden piece before the other. The goal is to get a piece identical to one already showing or else get the camel. Getting a piece identical to one someone else has lets you steal a piece from that person. Getting the camel permits stealing any piece. If someone pulls out a piece which is not already showing, the slower player gets it. The box contains pieces for three other games as well, including one of building a tower and another for quite young children.
Fils de Samarande, Les
Bruno Cathala; Asmodée-2005; 2-5
The caliph seeks a new vizier and will choose the player best at improving his city. Players allocate action points between drawing cards, playing new cards and using special actions to hamper opponents.
Caravans of Ahldarahd
Scott Lininger & Mark Morehead; BlindLuck Studios-2005; 2-5
Multi-player game of auctions and path control. In an unusual setup, each player is assigned a board upon which to build his empire, but one other player at a time may also build on the same board. While each board is different, all feature the same commodities sources. The way to achieve the most points is to control the supply of the same items on several boards, implying a monopoly. The means of control is via pre-printed trade routes. Just as in Kahuna, playing 2 cards matching either end of a route is good enough to get control if vacant. Otherwise, an opponent can be dislodged, again by the method of Kahuna, i.e. taking control of the majority the routes into the place eliminates any unfriendly controls.
2004
Akaba
Guido Hoffmann; HABA-2004; 2-4; 5+
A children's dexterity game. Players must blow to "fly" their magic carpets around the game board and thereby collect the most presents.
Auf den Spuren des Marco Polo
Reiner Knizia; Ravensburger-2004; 2-5; 8+
Included are game board, 5 camel figures, 45 playing cards, 5 overview cards and 36 "gold crates" having values 1-3. The board shows the travel route of Marco Polo over of 30 spaces. Play begins in Hormuz and there is a halfway point at Kan-chou. When the first player arrives there, an intermediate scoring occurs. Play ends with a final scoring when the first camel reaches Daidu (the Mongol name for city now called Beijing). Each player begins with 5 hand cards and a value 3 gold crate. 5 more cards form the open pool. The starting player places his camel on Hormuz while the others players start in turn order ever a field further in front. Only one camel is permitted per space. In a turn, a player may move as far as they like, or can, and then draw exactly one card from the pool or deck. In the deck are 40 goods cards (4 types of goods in 5 colors) and 15 caravan leaders in 5 colors. These are applied to spaces, each of which indicates which cards it needs before entry is allowed. Inability to satisfy the demand means waiting a few rounds and just pulling cards. But if a space is occupied, a player may simply skip over it. Once the player may hand over a gold crate instead of cards, but may not thereby go to the front of the caravan. Some spaces yield gold crates for the player that first enters. The winner is the one who has the most gold crates at the end.
Photo (Spelmagazijn)
Oasis
Alan R. Moon & Aaron Weissblum; Überplay-2004; 3-5
Mongolian families attempt to dominate lands to raise horses, build temples and control oases.
2003
Asia Crossroads
Joe Miranda; Decision Games-2003; 2
Britian and Russia engage in their "Great Game" in Central Asia during the 19th century.
2002
Ali Baba
Gunter Baars; Ravensburger-2002
Only the player who picks the nine locks of the treasure chest correctly, can open the cover and arrive at the treasures inside the crate (game box).
2001
Medina
Stefan Dorra; Hans-im-Glück-2001; 3-4
Game of constructing the medieval Arabian city. Borrowing liberally from both Torres and Big City, could serve as Exhibit A for the case that today's German games fail to break new ground and are content to merely feed upon one another. It doesn't help either that rather abstract rules result in a cold, silent atmosphere devoid of excitement. A failing in perhaps my eyes alone is the utter lack of any historical reality, save one: by the end is constructed a kooky, colorful patchwork of a Medina that resembles the real thing better than any artist could contrive. But the amount of mileage one can take from this purely visual will vary widely. Speaking of graphics, the usually sure-footed Hans im Glück have here made an annoying mis-step, coloring red the tile meant to match the brown buildings.
Tales of Arabia
Frederic Moll; Warp Spawn Games-2001; 2
Card game in which players create stories using their cards. The more cards played, the more points earned.
Muscat
Christiane Knepel; Die Sternspieler; 2001; 3-5
In this artist's competition the players must get as many as possible of their own into the Sultan's court (perhaps more likely an emir). The mechanism is a form of Rock-Paper-Scissors. Luck is introduced in the form of the order in which the players draw artists from their supply. Special powers granted to losers in status conflicts add considerable interest and variation. Strategically, despite all the possibilities for clever tactical play, victory often goes to the player who manages to get the most tokens into play, indicating that it may be best to mostly simply enter new artists, leaving activation of conflicts to others. Graphic design by Antje Graf.
2000
Morgenland
Richard Breese; Hans-im-Glück-2000; 2-5
in English: Aladdin's Dragons; Rio Grande Games-2000; 2-5
The German title refers to "The Orient". The cover reads "Adventure under the crescent moon." Aladdin is the background figure of the game, which is a re-invention of Keydom.
Abdul's Adventure
Daniel Lewis; Inner City Games Designs-2000; 2-6
Players try to be the first to deliver 100 shekels worth of goods. In town, stock up on water, hire guards, buy commodities and camels, sell commodities or artifacts, etc. On the trail, roll to move and land on wolves, nomads, oases, open desert, pyramids or sandstorms.
1999
Ali Baba
Dominique Ehrhard; Piatnik-1999?; 2-6; 5+
A memory game with features akin to Can't Stop.
Da Geht Was Ab im Morgenland
Mark Sienholz; Krimsus Krimskrams Kiste-1999; 2-5
"Morgenland" is an old poetic name for "The Orient". The grand viziers of the old ruler Scheherban are trying to become the next ruler. Each has treaure in a treasure chamber. Under that is also an insignia of power. Whoever collects all the insignias attains the goal. One tries to protect one's own chamber while infiltrating others' using robbers, genies, guards, slaves and magic items. The game play is divided over several days and nights. Players fill up their hand with five cards during the night, selecting freely from attack and defense cards. At daybreak, four cards representing events and objects are pulled.
Geschichten aus 1001 Nacht
Eric Goldberg; Truant-1999; 2-6
This is actually a re-release of Tales of the Arabian Nights with some additional text and places to visit.
Oasis
Jim Deacove; Family Pastimes-1999; 1-8; 5+
In three different games, players cooperate to best direct three caravans collecting valuables from the board while trying to avoid thieves and sandstorms.
Samarkand
Sid Sackson; Abacus-Spiele/Rio Grande Games; 1999; 2-5
A re-packaging (new graphics) of the so-called Bazaar II, although now players have more freedom of movement. Wheel and deal to buy the greatest share of goods in the bazaar to become the wealthiest Merchant.
Review: Trev's Boardgames
Isfahan variant: Die Pöppelkiste
Die Schätze des Ali Baba
Jean du Poél; Historien Spielegalerie-1999; 2-6
English translation of title: The Treasures of Ali Baba
Verrat!
Tom Kremer; Winning Moves Deutschland-1999; 3-4
A game of scheming to kill the Sultan in his palace. To be successful you collect six different-colored resource cards from different parts of the city and then end your turn next to the Sultan. Each turn the players vote which of the other players' pieces to imprison. Each player has only three pieces so you need to balance the need for resource cards in the city against staying in the palace to vote.
English translation of title would be "Treachery".
Les Voleurs de Bagdad
Francis Pacherie; Tilsit-1999; 3-6
in German: Die Diebe von Bagdad; Heidelberger Verlag-1999; 3-6
in French: The Thieves of Bagdad; Clash of Arms-2000; 3-6
The board shows the five principal districts of the Baghdad: the Souk, the Port, the Bazaar, the Kasbah, and the Palace. Each player represents the thief of his choice. First, players receive income from their pawns in shops. Then they may trade gem, surprise and trade cards amongst themselves. Then they purchase pawns, any of Caravaneers, Merchants (can expel Caravaneers), Traders (can expel Merchants), Assassins (can assassinate), and gems (sapphires, emeralds, rubies and diamonds). Pawns may now be moved so as to maximize profit and hamper those of others. Players may attempt also to move the Grand Vizier, although others may try to frustrate this. The game ends when the Grand Vizier reaches the Palace. The players reveal their cards. The winner is the one holding the gems that the Vizier requested. If no one has the right gems, the winner is the one holding the greatest value of gems.
1998
Basari
Reinhard Staupe; F.X. Schmid-1998; 3-4
The setting is a Middle Eastern bazaar. Players travel around the board landing on various stalls. On each turn the players have 3 options:

Take the jewels pictured on the stall
Take the number of Victory points listed on the stall; or
Roll the dice and move that amount forward. The player also subtracts the number rolled from '6' and gets that difference in victory points.
The main feature is that each player secretly 'bids' for which action he wishes to take by use of bidding tiles. If two players bid for the same action, they must negotiate a deal to see which one gets to execute the action. The jewels (of which there are 4 varieties in various values) are the unit of currency. The negotiation process involves players making offers and counter-offers in jewels until one player decides to accept the other's offer, takes the jewels offered, and the other player gets to execute the action.
If three or more players happen to bid for the same action, those bids cancel each other and no one can execute the desired action.
The game is played in three rounds. A round ends when at least one player travels around the board and again reaches his starting base. At this point, any player who reached the starting base on that turn receives a bonus of ten victory points (this is why the dice roll option is important). Then, each player who has a majority of one of the four categories of jewels gets bonus points, which range from 8-14 points. Each player who had a majority must return three of that color jewel to the bank. Thus, the race for majority position remains competitive from round-to-round. After the third round, final scores are tallied to determine the victor.
Picture: spielbox-online
Jewels of the Sultan
Kory Heath; (unpublished)-?; 2-5
Dice rolling game of collecting sets of jewels, but avoiding the worthless variety. Dice determine the colors of ten jewels which the current player divides among the players, giving each at least one. Using cards, the player also decides which color will score that round.
The Journey to Tianzhu
Bennie Lui and the Lui Chi Leung Production Co.; C.C. Games-1998; 2-4
Chinese and English game based on a Chinese national epic The Journey to the West. The tale of myth and magic is based on the real life journey of the Buddhist monk Xuan Tsang from China to India and back in the seventh century. Players move their monk, monkey, pigsy and Shaseng pieces (all characters from the book) from Chang An to Tianzhu (the ancient Chinese name for India) with rules similar to those of Pachisi. Pieces are plastic with colored stickers with the board made from laminated paper. Play is made more interesting by inclusion of special powers for each type of piece which can affect each other type in special ways as well as cloud paths which a player may attempt to use to evade his enemies. There are also variant rules to change the victory conditions or play of the game.
1997
Die Seidenstraße
Hartmuth Kommerell; Schmidt-1997; 2-7
The game is about Marco Polo's return from his expedition to faraway China on the Silk Road (Seidenstrasse). This is a trading and racing game, but victory is to the player who has the most silver at the end. Players interact via cardplay, in every turn counterbalancing own interests with those of rivals. For example, an early Market Day may only give you a few coins, but it might make your visits to the next Trading Posts very profitable.
Durch die Wüste
Reiner Knizia; Kosmos-1997; 2-5
in English: Through the Desert; Fantasy Flight-2000; 2-5
Players take turns placing 2 camels on the board to form caravans. Each player has 4 or 5 caravans of distinct colors. You get points for placing your camels on waterholes or adjacent to oases or for surrounding territory. Additionally, the longest caravan of each color gets a bonus.
There is really nothing here to do with camels, deserts, trade or adventure. The camels, deserts and oases are merely a very thin veneer for a Go-like game of surrounding territory.
Picture: Fantasy Flight
1996
Caravansérail
Bruno Faidutti-1996; 6 or 8
Each player is a sheikh ruling a desert kingdom. He sends his caravans to oases and caravanserais to exchange his wares with the other sheikhs, and controls a group of raiders attacking opposers' caravans. The winner is the first to get all the goods listed on the treasure card that he was dealt at the start of the game.
Suggested variant: Make up 4 cards for each player, each colored accordingly and label them 1, 2, 3 and Raider. Then take all 24 (or 32) cards and shuffle. During movement, turn up cards one by one . as each is turned up, the corresponding caravan or raider moves. This eliminates the need for writing orders.
Rules and Game from The Game Cabinet
Marco Polo Reise-Spiel
Wolfgang Riedesser; Schmidt-1996; 2-4 Geographical trivia game of rolling to move and then answering questions. Includes sixty cards This was published in German, French and Italian under the titles, Marco Polo Reise-Spiel Deutschland, Marco Polo Reise-Spiel Frankreich, and Marco Polo Reise-Spiel Italien respectively.
Palmyra
Reiner Knizia; eg spiele (Editrice Giochi of Italy)-1996; 2-4
Palmyra was one of the most prosperous oasis towns to be found on the part of the Silk Road that runs through the middle of the Syrian desert. Between 100 B.C.and 272 A.D. it was a thriving market town until ordered destroyed by the Roman Emperor Aurelius.
In this game you are a trader of Ancient Palmyra, dealing in Gold, Wine and Spices. As the commodities are purchased the price goes up. A player may either buy or sell one of each type of commodity per turn, or buy or sell two of any one type. Each turn the players also play a card onto the board. At the end of the year (there are three years in a game), these cards will adjust the prices of the various commodities, tax particular commodities, pay profits on a players holdings or undo a previous card. There are a set number of card spaces on the board (adjusted for number of players) and when all the spaces are filled the year ends.
Outguessing the other player intentions and dealing adequately with the uncertain end of the year (because undo cards do not take a space) appear to be the keys to the game.
Review from The Game Report Online
Comments from the Game Cabinet
Blazing Camels
Alex Randolph; Milton Bradley-1996; 4
in German: Kameltreiber; Milton Bradley-1996; 4
In this racing game each player is a camel driver driving his animals from the oasis to the pyramids (palm trees and pyramids serve as start and finish markers). Re-invention of a game about worms called Würmeln. It is also said that the same type of camels used in this game were later used in Durch die Wüste.
Review: Luding (German)
1995
Bakschisch
Kara Ben Hering (pseudonym for Klaus Teuber and friends); Goldsieber; 1995; 2-4
The goal of the game is to successfully bribe your way to becoming Caliph. If you use more gold than the other players to bribe any of the first four revealed cards, then you will move towards the throne. If you use the least amount of gold to bribe the fifth card, then you will move back towards the start space. After each complete round (5 bribes), all of the bribes of that round are redistributed as evenly as possible to all of the players. Once per round a player may use his or her thief rather than attempt to bribe the current card. The thief steals the bribes of the other players of the current card only. If more than one player plays a thief, then they must divide the bribes as evenly as possible. The game ends when a player occupies the throne at the end of a round.
Nomadi
Reinhold Wittig; Blatz/Schmidt-1995; 2-5
A tactical game set in the desert. A caravan with 15 camels moves slowly through the sand, its target: the shadow of the oasis. Throw six dice, and move six camels. All camels must always remain connected together as a caravan, yet each player is trying somehow to get ahead of all the others. Sometimes not all the dice can be used. Then pay per each die. Nomadi is a revision of the game Wabanti.
1993
Ali Baba
Ian Livingstone; Abacus Spiele-1993; 2-6
A re-issue of a British game Calamity translated to a colorful, but not particularly apt theme. Although tension is high, players often feel there is far too little control over their destiny, particularly as the number of players increase.
Der Dieb von Maradad
Manfred Schüling; Eigenverlag Schüling-1993; 4; 120
"The Thief of Maradad" is a dice rolling affair in which exactly four families sell old treasures and antiques, trying to make as much money as possible. Opportunities for trade and theft also arise.
Timbuktu
Dirk Henn; db Spiele-1993; 3-5
Caravans try to cross the deserts of northwest Africa on abstract routes, taking goods to Timbuktu. But thieves are attempting to steal particular types of merchandise. You have some information about what they want and can steal more information from other players at oases. But the more the thieves steal, the rarer and more valuable that good becomes. Your goal is to have the most of the rarest type of when you arrive in Timbuktu.
Review: Brian Bankler
Review: Oktogon
1992
Aladdin's Lamp Game, The
University Games-1992; 2-4; 3+
Spin-and-move around a two-level track. Landing on a special space yields cards, which permit entry to the upper board where the goal is in sight.

Aladdin the Magic Carpet Game
Mary Danby; Milton Bradley-1992; 2-4; 5+
Spin-and-move game based on the Disney animated film with Robin Williams.
Aladdin's Sounds of Fun Electronic Talking Board Game
Parker Brothers-1992; 2-4; 3+
Set collection game based on the Disney animated film with Robin Williams. PLayers try to rescue the imprisoned princess from the villain Jafar.
Der gestohlene Harem oder die falschen Eunuchen
Rudolf Ehm; 1992; 3-6
An arithmetic game in which one player is designated a harem keeper and another a potential kidnapper. Six dice are rolled and both players attempt to interpose addition, subtraction, multiplication and division operators between the numbers showing on the dice. The first to show how this can be done to obtain a resulting value of six wins the contest. The kidnapper can win credit for lady (victory point) but if the eunuch wins the failed kidnapper must speak in a ridiculously high voice.
Perlen der Scheherazade, Die
Klaus Zoch & Albrecht Werstein; Zoch-1992; 2-6
The board shows two paths from an oasis to the Sultan's palace, which has seven rooms. At the start of the game each player gets 1 Baksheesh Card and corresponding pieces, 10 multicolored beads and a cloth for covering them as well as a color card from the deck. Each player also has 2 Bedouins in the oasis, but only he knows their identity. Players attempt to find Scheherazade in the correct room of the harem and present three beads to her. They each secrete beads in hand and predict how many beads will be allocated in total. The high bidder wins the right to lead a camel and places his beads in a bowl. The best guesser receives all the beads in the bowl. As the camel moves, the Bedouins which are of the same color may also be moved. Then the process is reapeated. Presenting the beads is a matter of matching a hidden card in the harem.
Review by Andreas Keirat
Picture: Luding
1990
Karawane
Ravensburger; 1990; 3-5
In the 13th century the emperor Kubla Kahn, has started a contest. Once a year, the cleverest and best caravan leader in his empire was determined. Each caravan leader has three sets of water gourds and starts their camel from the first town. The first one to reach the next receives bales of silk, the second a couple of bales less and so on.
To move, each player secretly chooses a number of gourds which are revealed simultaneously. The highest number moves forward a number of places equal to the number of players. The next highest moves one less and so on, down to the minimum of one. Players choosing the same number move the same number. It is possible to choose none to try for last place on purpose and save water, but of course others may do the same and thus lose the advantage. The idea is to have enough gourds to survive the journey at a good speed.
Some places are marked with special graphics that award a silk bale to anyone landing exactly on them, others offer fresh gourds and others have negative effects such as losing bales or water. There is therefore much jostling for position and movement placing to pick up or avoid these special sections. The resulting strategy is not mind boggling but is interesting enough and quite difficult to get right.
The title in English would be "Caravans"; the game is out of print.
Review from The Game Cabinet
Sindbad
Flying Turtle/Mayfair; 1990; 2-6
The game is set in the world of the seven voyages of Sindbad from A Thousand Nights and a Night. Player Sindbads voyage by sea to amass a fortune of one million miskhals in trade, treasure, and adventure and return safely to Basra.
This one is actually ships at sea rather than camels in the desert, but feels much more appropriate to the topic than does an abstract game such as Durch die Wüste. Included are illustrations of exotic creatures, characters and settings, exotic valuable trade goods and the concept of telling stories reminiscent of the classic A Thousand Nights and One Night.
Review: Game Cabinet
Sahara
Hajo Bücken; Hexagames-1990; 2-6
Basically a card-play game with 36 camels. The board shows a path leading to an oasis with 8 fields. There are ninety playing cards, six sets of fifteen each; each player will receive such a set and randomly divides them into three stacks of five, the top card of each showing, and playable. If one of the stacks is exhausted, the player takes all the cards and reshuffles, creating stacks as before.
Within each set, there are four types of cards and these are used for moving the camels. Palm cards let you move your own camels a number of spaces equal to the number of palms. A Fata Morgana card permits moving opponent camels. A Camel card replaces one of your camels with a guide camel. The Sheikh allows moving any camel virtually anywhere.
The game ends when the eight numbered oasis fields are filled with camels. Scores are calculated by adding up the scores under the camels; scores for guide camels are doubled.
Review: Andreas Keirat
Picture: Luding
1989
Kameltreiber AG
Heinz Meister; Schmidt-1989; 2-5
Included are sixteen desert cards, thirty number chips, five play figures and a marker piece.
Start by laying out the cards to form a 5x5 framework and pick one camel card to start. The number chips are mixed and laid out. Turn over a random chip and move the corresponding camel. If the camel lands on an oasis, turn another chip.
Review: Andreas Keirat
1988
Das Letze Kamel
Tom Schoeps; F.X. Schmid-1988; 2-6
Included are one game board, six camels, six camel possession cards and two color cubes.
The possession cards are shuffled and dealt to determine which camel each player owns. Each camel has a two-colored saddle and moves forward via the color cubes. Each color on the color cube is represented on three camels. On a result of a golden asterisk, any camel may be moved forward . a black asterisk, moves any camel backwards. The fastest camels must rest upon reaching oases.
Review: Andreas Keirat
Picture: Luding
Targui
Wil Dijkstra & Ben van Dijk; Jumbo Spiele GmbH; 1988, 1999; 2-4
Players attempt to control the desert, whose layout is different in every game. The game is apparently a bit like Risk . the name from a North African tribe.
1987
Aladdin's Erbe
Franz-Josef Schulte; Franjos-1987; 2-4
A player has two pawns which he moves on a grid via four dice. If he can manage it so that the two are facing each other with one of the treasure cards between them, he can claim that hidden treasure, that is, unless he already has one of that type. Players may also duel by landing on one another, adding together a treasure card and dice result. Treasures have differing values so that even if a player is first to acquire all types and end play, he doesn't necessarily win.
Review: goodgameguide.de (with photo)
Fliegende Teppich, Der
Kurt Feyerabend & Elke Flogaus; Ravensburger; 1987; 3-6
in English: Flying Carpet for Ravensburger-1987; 3-6 Play a card and move your carpet, but don't run into a wall or a cloud. If you land on another's carpet, you can stall him or drop him to the ground. A fun, not-too-serious racing game with some wild effects so you're never sure who will win until the last play.
1986
Bazaar
Sid Sackson; Schmidt-1986; 2-5
This game has the same basic idea as Bazaar, but as is it a re-invention of the game, is colloquially given the sobriquet "Bazaar II". (The story is that the German company which published the first edition of Bazaar had allowed them to lapse and they had been acquired by another company. So they instead commissioned inventor Sackson to simply create a new game with a similar theme.) This edition features the addition of pawns which travel across different regions of a board, including buying markets, bartering markets and bazaars, different rules applying to each.
These ideas are carried further in Mr. Sackson's game, Samarkand.
Rules (Gamesters)
Picture: The Great Games of Sid Sackson
1985
Silk Road
L. or R. Edwards; Tsukuda Hobby-1985; 2-8
This multi-player game of trade on the Silk Road has a game-map which covers the entirety of Asia from Italy to Japan. Each player buys goods at one location and sells them at a different location. The game is now out of print.
Tales of the Arabian Nights
Eric Goldberg; West End Games-1985; Z-Man Games-2009; 2-6
This is actually four games in one:
In the Standard Game, encounter a wide variety of characters from the A Thousand Nights and a Night tales as you collect treasures and gain status traveling across Central Asia by encountering various individuals and places in a large programmed adventure book. Win the game when you become the Sultan.
In the Adventure Game, a player may instead of seeking this goal, try to satisfy a series of quests. A third option is to play a Merchant which means that you draw trade arrows from a cup and use them to to connect up commodity sources and demands on an abstract display chart.
In the Storytelling Game, the setup is the same as the Standard or Adventure game, but players can earn extra points by improvising two-minute stories, the quality of which are voted on by the group.
In the Solitaire Game, you must achieve the victory conditions of either the Standard or the Adventure game in a limited amount of time.
So Ein Kamel
Hans Peter Pauly; Hexagames-1985; 2-4
Dice game in which players try to most efficiently load and unload various camels.
1983
Ali Babas Beute
Heinz Wittenberg; Spears-1983; 2-6; 6+
As players move around the board they pick up gold coins. But the distance moved is calculated in a curious way. While one player chooses the distance, another which player will move.
1982
Marco Polo: Dragonda
Marco Annatelli; Clem Toys-1982/Piatnik-1982; 2-4; 180; 8+
Players are traders employing horses, ships and camels to trade in six types of goods (silk, porcelain, spice, gems, textiles, artifacts) at cities from Venice to Manila. Cards range from things playable to hamper another players, "safeties" to save as defense or grants of experience points, the accumulation of which is the point of play. Tie-in to an Italian television program.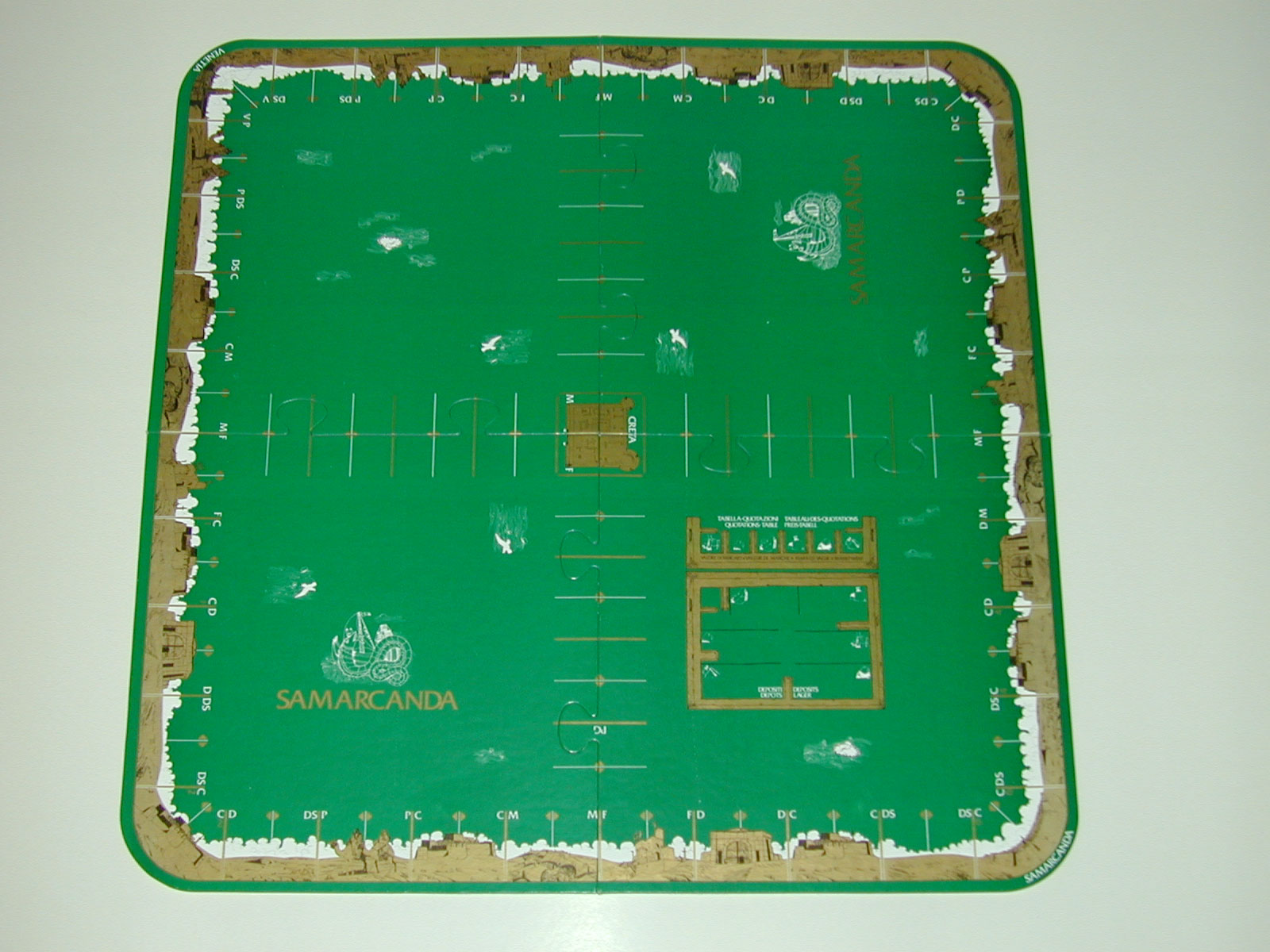 (courtesy Ernst Knauth)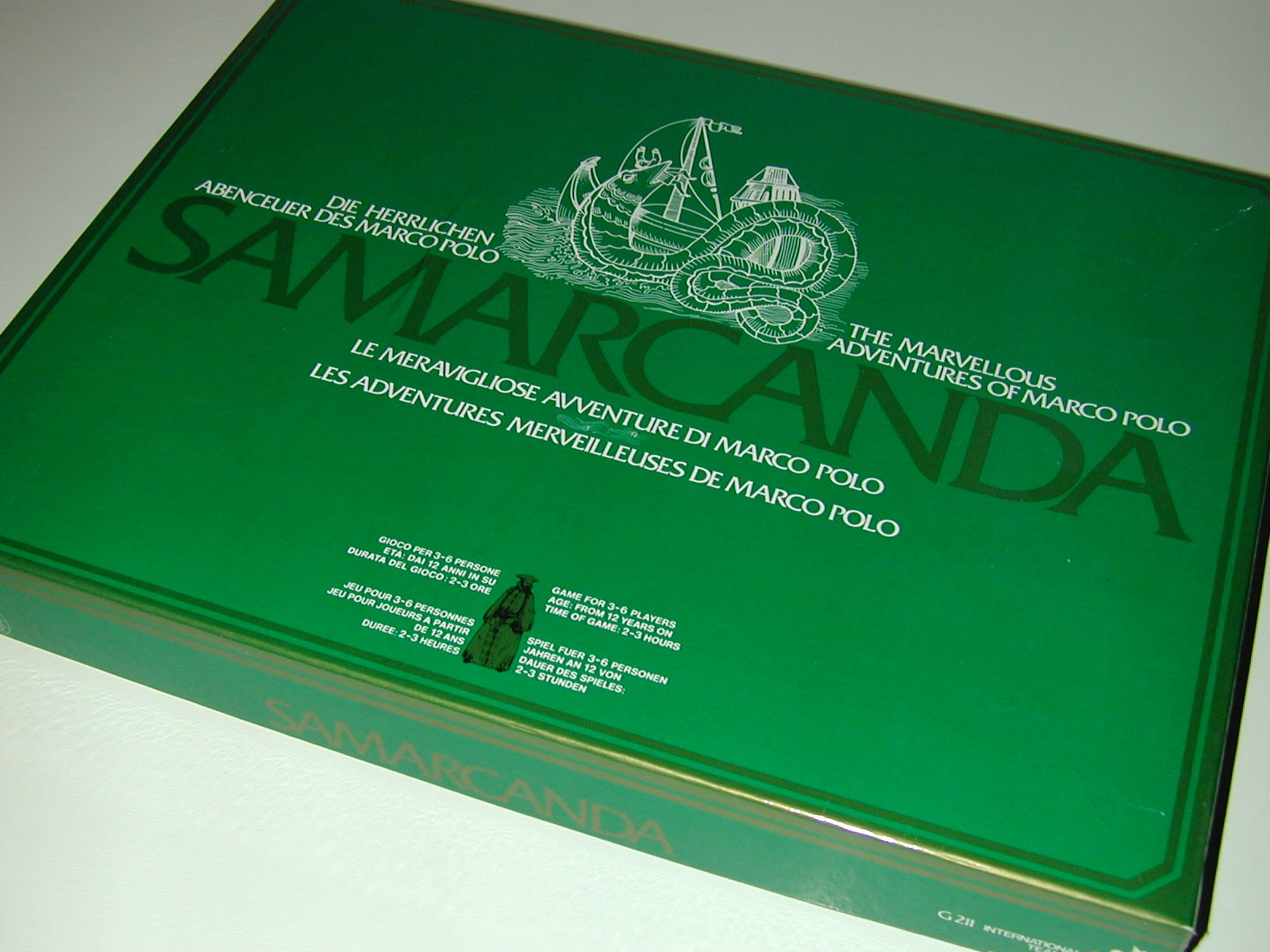 (courtesy Ernst Knauth)

Samarcanda
International Team-1982; 3-5
Subtitled: "The Marvellous Adventures of Marco Polo"
Like Polo, players represent Venetian traders, each of whom set out funded with thirty pounds. Available for trade are silver, spices, salt, gems, silk and ivory. Each price is represented by a separate die; all of them are re-rolled at the start of each round. Departing Venice, a trader's move is controlled by a single die and traverses either clockwise or counterclockwise and either by land (outer edge) or by sea (inner edge). The right to go first rotates after each round. The player's movement roll also moves the Genoese pirates who started in the middle of the board and strip a trader of all but what he has left in the Venice bank if they should end on him. Landing on a Customs space makes the player roll a die and pay that many pounds to cross. Landing on a Thieves space makes the player roll a die and lose that many commodities. During the journey, players will end on spaces that permit purchase a certain amount of each of the commodities. Purchased goods may later be sold in a warehouse space (but only one type per space), sold to other players when at market spaces or sold at Venice with the price being equal to the number of the commodity being sold up to a maximum of five. But there is no such limit if the player holds a monopoly this commodity. Players may also take out loans, but at 100% interest. They may also make any deals not explicitly prohibited by the rules. The first player to reach 100 pounds is automatically elected Doge of Venice and wins the game. May have influenced Sindbad whose travel and trade system is somewhat similar.
Brochure (courtesy Gianni Cottogni)
Survey of International Team games by Gianni Cottogni
1978
Sindbad: Das Große Abenteuer-Spiel
F.X. Schmid-1978; 2-6
Roll-and-move game for children on the adventures.
1972
Arabian Nights Flying Carpet Game
Selchow & Righter-1972; 2-4
Players move via rotation of a clock-like device, land on spaces and take the indication indicated there. Game for children.
1970
Aladdin
PK-1970; 2-4
Finnish roll-and-race game.
1967
Bazaar
Sid Sackson; 3M-1967/Schmidt-1967/Discovery Toys-199?; 2-6
This game has no real travel or desert, but is an abstract rendering of the barter and trading that goes on in a bazaar, and in particular, the process of continual "through-trading" to get what it is that you ultimately want.
Players obtain gems in the right combinations to purchase random merchandise cards, each of which cost five gems each. All players compete for the came cards. You may either throw the dice and receive gems of the corresponding color or you can make a trade according to one of ten formulae, which will be different for each game.
When merchandise card is matched, you turn in the five gems and turn up a new merchandise card. Points are collected based on the number of remaining gems the player has each time a card is claimed and surprisingly, the fewer the better. Thus a player needs to be efficient not in the sense of earning a lot of gems, but in making only necessary trades.
It is chesslike in the sense that a player must traverse a decision tree of possible trades which lead to more possible trades and so on. This game could be played very well by a computer, particularly if the optional rule that prohibits rolling the die except when no trade is possible were employed.
See also, the so-called Bazaar II.
Review: Game Cabinet
Picture: The Great Games of Sid Sackson
1960
Aladdin and the Magic Lamp (1960)
unknown; John Waddington; 2-6
Promotion roll-and-move race game to promote chocolate.
1940
Game of Arabian Nights
National Games-1940; 2-4
Roll the dice, move and see what happens. For children.
Unknown Publication Date
Asian Travels
San Francisco Asian Art Museum; 2-6
A voyager in the game finds himself on the trade routes which existed at the height of the Tang Dynasty in China (c. 750 AD). He sets out from Chang An, the cosmopolitan Chinese capital. Traveling across northern China and then to Central Asia, with a lucky roll of the die he will arrive at Samarkand, an important trading center. There, glass, fruit and horses may be purchased. At Merv, the traveler must decide whether to follow the overland or sea route. Going by sea, one has the opportunity to buy incense at the port of Hormoz, collect rubies, sapphires and pearls in the kingdom of Anuradhapura (now in Sri Lanka), visit the wondrous temples at Elephanta and Kancipuram and buy spices in Srivijaya (Sumatra). But beware! There are mighty perils on this route. On the overland route, the traveler visits magnificent Buddhist temples in India and beyond, encounter tigers in the jungles of Bengal and purchase luxuries such as kingfisher feathers and rhino horn at Angkor. The final leg of the journey passes through the the bustling port of Guangzhou (Canton) and then off to Japan and Korea where the traveler will be able to visit foreign temples and complete final trading before returning home by way of the Grand Canal.
Each location includes a special paragraph of text describing what happens to the traveler there. Often they include special trading opportunities. Major trading centers have specific products which they sell and also another list which they want to purchase. Commodity holdings are shown by cards which list the differing values of these items at various locations. Includes short history and glossary of terms.
Orient-Bazar
Barbara Rogge-Fuchs; Espenlaub; 2-4; 8+
Roll-and-move affair in which players first need to move over enough money spaces to earn the ability to hire an elephant. Thenceforth it's possible to spend money to acquire goods. Victory consists of buying all six goods in his color; when it's necessary to buy from an opponent, it doesn't come cheap.
Bibliography
Aspects of History and Epic in Ancient Iran - M. Rahim Shayegan
Attila and the Nomad Hordes - David Nicolle
The Arabian Nights, Or, Tales Told by Sheherezade During a Thousand Nights and One Night
- Brian Alderson, Michael Foreman (Illustrator)
The Arabian Nights' Entertainments or the Book of a Thousand Nights and a Night
- Richard Francis Burton (Editor), Bennett A. Cerf
Bazaars of Chinese Turkestan: Life and Trade Along the Old Silk Road
- Wei-Chuan Weng, Peter Yung, Weiquan Weng, Wei-Ch'uan Weng
Between the Dragon and the Eagle - Mical Schneider
The Book of the Thousand Nights and One Night, Vol 1 - E. Powys Mathers (Translator), et al
The Book of the Thousand Nights and One Night, Vol 2 - E. Powys Mathers, J. C. Mardrus
The Book of the Thousand Nights and One Night, Vol 3 - E. Powys Mathers, J. C. Mardrus
The Book of the Thousand Nights and One Night, Vol 4 - E. Powys Mathers, J. C. Mardrus
Central Asia in World History - Peter B. Golden
Did Marco Polo Go to China? - Frances Wood
Foreign Devils on the Silk Road - Peter Hopkirk [Notes]
The Heritage of Central Asia - Richard N. Frye
Invisible Cities - Italo Calvino, William Weaver (Translator)
The Journey to the West - Wu Cheng'en, W.J.F. Jenner (Translator)
Life Along the Silk Road - Susan Whitfield
Lou-Lan and Other Stories - Yasushi Inoue
Monks and Merchants: Silk Road Treasures from Northwest China - Annette L. Juliano, Judith A. Lerner
The Renaissance Bazaar: From the Silk Road to Michelangelo - Jerry Brotton
Silk Road - Colin Falconer
The Silk Road - Luce Boulnois
The Silk Road: A New History - Valerie Hansen
The Silk Road in World History - Xinru Liu
The Silk Road - Jonathan Tucker, Antonia Tozer (Photographer)
Stories from the Silk Road - Cherry Gilchrist
Traveling Man: The Journey of Ibn Battuta, 1325-1354, - James Rumford
Tun-Huang: A Novel - Yasushi Inoue
Warriors of the Steppe - Erik Hildinger
Silk Road Collectors Box Set II:
Across the Pamir ; The King's Road ; Legendary Ladack
Xuang Zang's travels in India ; The Scorching Sun and the Southern Road of Iran ; In Search of Wisdom
Beyond Baghdad ; The Road Vanished into a Lake ; Across the Steppes
The Sky Horses of Davar ; The Soghdian Merchants ; The Glory of Samarkand
Across the Karakum Desert ; The Other Silk Road ; The Caravans Move West
The Horsemen of Turkey ; The Silk City at the Edge of Asia ; All Roads Lead to Rome
---
Music (forward to German language)

Ghazal:

Kitaro:

Yo-Yo Ma:

If you liked this page, you may also like to travel east to CHINA or west to ANCIENT ROME,
back in time even further to the PREHISTORIC or forward to BALLOON AVIATION.
---
Many thanks for the assistance of Masahiro Yamazaki, Gianni Cottogni, Ernst Knauth, and Andrew Perkis. spotlightongames.com